The people who have inhabited this land for thousands of years, know themselves in their language as Dene.  They have a long history of making treaties with their neighbours.  Historically, they always kept in touch with each other in the interest of planning their future and protecting their land.
In the late 1700's Dene from the Valley of the Dehcho attended the negotiations that led to a peace treaty with the Cree in the territory which is now called the Peace Country of Alberta.  In that same century, some also witnessed the peace made between the Dogrib and Chipewyan people northeast of Great Slave Lake.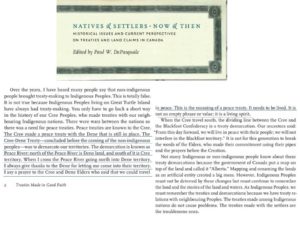 In 1899, many Dene gathered near the mouth of Redknife River.  From there, their leaders traveled up the Mackenzie River and across Great Slave Lake to witness the negotiation of Treaty 8 at Fort Resolution.  They returned and told their people that they decided not to take treaty at that time.
In 1916, the federal government of Canada surveyed lands in Dene communities along the Dehcho and allocated them as lands reserved for Indian use.  But there was no interest expressed by the Crown to sign treaty with the Dene in the valley.
In 1921, oil was discovered at Norman Wells by the old man Blondin and the Crown immediately sent a Treaty Party into Denendeh  (Land of the People).  There interest was to make Treaty 11 with a view to extinguishment of the aboriginal title to the territory and lands.  The Crown's written version of the treaty states that the Dene ceded all their rights, lands and interests.  There was, and still exists, much controversy over this.  The Dene's oral version, substantiated by affidavits from Dene signatories to the treaty and non-native witnesses to the meeting in all the Dene communities in the valley, clearly states that the treaty was for friendship and peace.
The Fort Simpson meetings between the Dene and the Crown took place in a tent near the Indian Agent's house, which was located on the hill above where the float-plane base is currently located.  Commissioner Conroy represented the Crown and the Dene were represented by Antoine Cho, Norwegian, Betsidea and Etahtsa.
Originally published by the Fort Simpson Historical Society, 2002.
Save
Save
Save
Save
Save