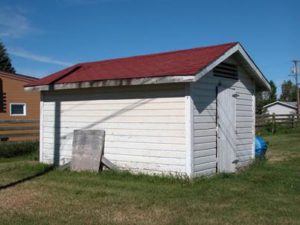 The Hudson's Bay Company Shed is situated on McKenzie Drive on the Fort Simpson waterfront, it is a small storage building dating from around 1935. Only the building is designated.
The heritage value of the Hudson's Bay Company Shed resides in the fact that it is the only structure surviving from the original Hudson's Bay Company compound. Company buildings tended to conform to a uniform colour scheme; white walls with green trim and red roofs, said in the 1930s to be the most attractive colours in the wilderness, giving a bright appearance to HB Co. settlements. The village of Fort Simpson became a permanent settlement in 1822 when the Hudson's Bay Company began construction of a trading post, naming it for George Simpson, then Governor of Rupert's Land. The village remained primarily a "company town" until around 1910. In its traditional Hudson's Bay Company livery of white walls and red roof, the shed is an icon, linking Fort Simpson to its past as a Hudson's Bay Company settlement and trading centre.

In 2004, the Fort Simpson Historical Society successfully undertook to have this site recognized as a historic site by the Fort Simpson Heritage Bylaw, and it's registry with Canada's Historic Places.

Character-Defining Elements
The heritage value of the Hudson's Bay Company Shed is defined by:
– Its HBC colours—white walls and red roof.
– Its original materials, volume, layout and construction.
Save