One of the objectives of the Fort Simpson Historical Society is to "collect, record and publish stories, legends and historical data". One of the ways in which we seek to do this is through genealogical records, and the stories of our ancestors.
Fort Simpson has three cemeteries:
St. David's Anglican Church Cemetery
Sacred Heart Catholic Church Cemetery
Village of Fort Simpson Cemetery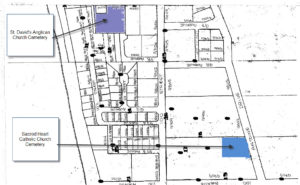 You can follow the links to each cemetery to review the information we have collected to date.  We invite the community to contribute the stories of their ancestor's to preserve it for the future.  The Family Group Sheet below will give you the format in which to collect data for our database, but hearing the stories of your ancestor is even more important to future generations—and the Memorial Template document will help you create a memorial to one of your ancestors.
---
Are you researching your family?  Would you like to be in our database so others researching the same family name can get in touch with you?  Just fill out the form below:
Save
Save
Save