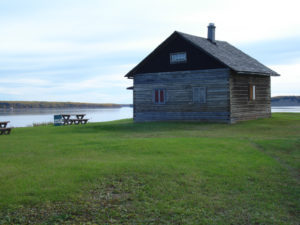 McPherson House is a one-and-a-half storey squared-log dwelling.  It is located in the Heritage Park that overlooks the Ehdaa Historic Site in Fort Simpson.  It's location is at the southern edge of the original Hudson's Bay Company compound that provided an excellent view of the confluence of the Mackenzie and Liard Rivers, a key trade transportation route for many centuries.  The rivers are still being used today by barges hauling fuel and other goods down the Mackenzie and Liard Rivers to the communities that flank the rivers.
In 2004, the Fort Simpson Historical Society successfully undertook to have this site recognized as a historic site by the Fort Simpson Heritage Bylaw, and it's registry with Canada's Historic Places.

The McPherson House has great heritage value because it is an icon of the settlement heritage of Fort Simpson for the community and tourists alike.  The house is an excellent example of Metis architecture as interpreted by prominent Metis community members.  The grounds occupied by and surrounding the McPherson House comprise a multi-component stratified archaeological site.  Upper layers of the site suggest that the Hudson's Bay Company used the area for the construction of York Boats, while lower strata indicate use by pre-contact inhabitants.
Character-Defining Elements
The heritage value of the McPherson House is defined by:
– Its squared-log, square notch corner construction
– Its original materials and construction style, dating to its occupation by the builder
– Its selection of McPherson furniture
– Its view of the river and the Flats
– Its original location in the historic Hudson's Bay Company area
– The hummocky character of the grounds and the associated as-found remains
You can arrange to visit McPherson House through the Village Visitor Information Centre.
Save