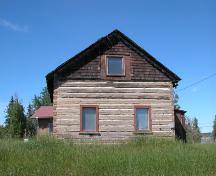 The Lafferty House is a one-and-a-half storey squared-log dwelling built circa 1929. It is located at the north end of the village of Fort Simpson, close to the waterfront. Only the building is designated.
The heritage value of the Lafferty House stems from its unbroken association with a pioneering family. The Laffertys, a proud Metis family, have been in the Fort Simpson area since 1790, and were long active in the fur trade. The house was constructed by Jim Lafferty and his father around 1929; its entire history has been one of continuous use by, and association with the Lafferty family. The house is in relatively good condition and is an excellent, original example of Metis architecture.
In 2004, the Fort Simpson Historical Society successfully undertook to have this site recognized as a historic site by the Fort Simpson Heritage Bylaw, and it's registry with Canada's Historic Places.
Character-Defining Elements
The heritage value of the Lafferty House is defined by the following elements:
– The squared-log construction featuring square-notched corners
– Its one-and-a-half storey design incorporating original construction materials, styles, and layout
– Its cedar-shingled roof
– The location of the structure on its original site